IoT Reporting
What is IoT?
IoT, or the "Internet of Things" is a broad category that relates to devices plugged into the internet that share data. Typically people think of "Smart Fridges" or "Video Doorbells" when you say 'IoT' - UCentric takes a different view on this and considers all internet-connected devices as 'IoT' - This can include Environmental Sensors, WiFi access points, VPN connections, Building Access Systems, BMS (Building Management Systems), HVAC, CCTV, Mobile Phones, PABX's and much more.
With home and flexible working, how can you manage access to your buildings, offices and security systems.
UCentric will allow you to compare and correlate these seemingly non-related data sources in order to provide valuable insights.
Want to learn more? View our latest webinar demonstration below. 
3D Modelling with ease
UCentric's property module allows you to visualise access as a 3D model with ease. Utilising existing data from swipe-card, WiFi or thin-client management platforms, UCentric provides insights that truly are useful.
In addition to access, UCentric property can monitor any of your environmental, vending or building management systems and collate that information in a way that provides real business analytics from your data.
Imagine being able to collate data from ALL your HVAC systems, and correlate that with emissions sensors in order to both highlight the carbon footprint of the business, and the air quality for your staff – all in one place.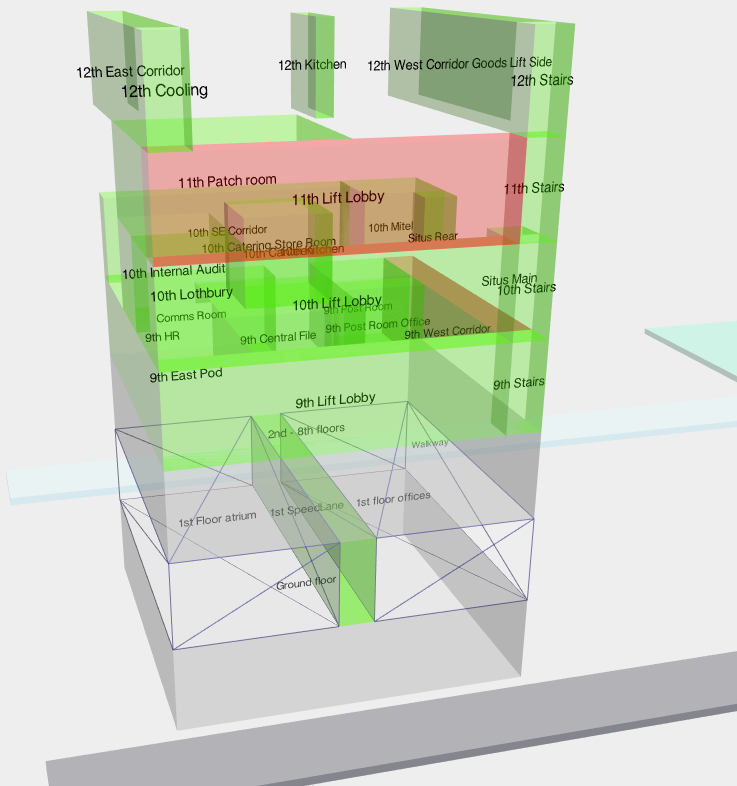 Track and Trace
UCentric's property module also provides the ability to perform a 'Track and Trace' on any individual. This could be for the purposes of security, or for communicable diseases like Covid-19. It utilises existing data from WiFi access points, security access systems, thin-client logon's and other business infrastructure systems.